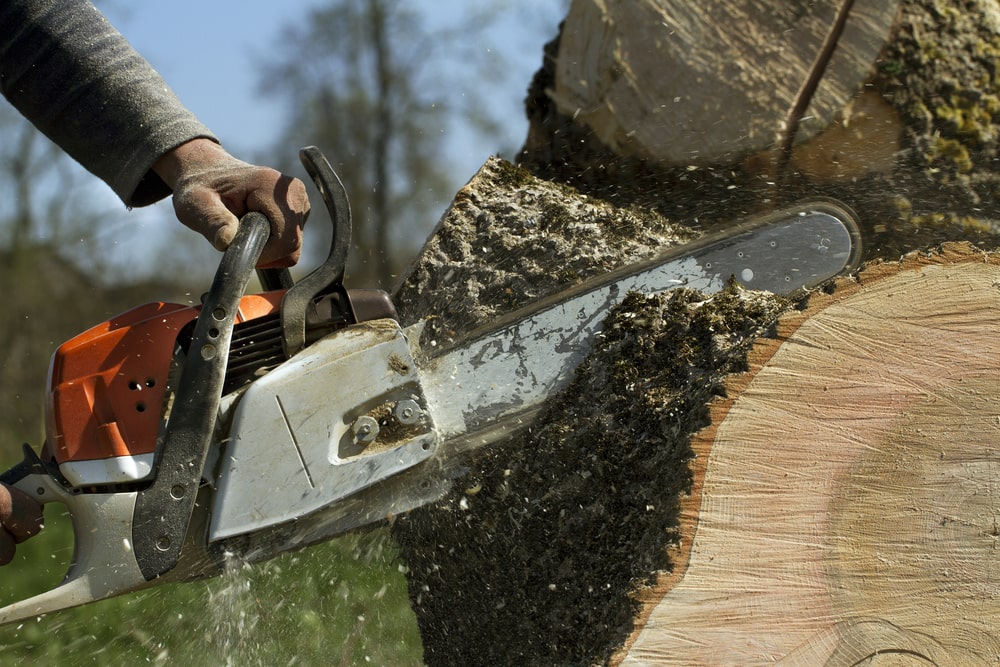 Anne Arundel County has some of the highest quality tree service companies in the state, offering everything from trimming and pruning to stump removal, cabling and bracing, pest control and more. With so many experts available, it can be difficult to determine which company is the best for your specific needs. To help you make an informed decision, we've compiled a list of the top 10 companies in Anne Arundel County, each with their own unique set of services and expertise.
#1 Bayside Tree and Stump Removal Service in Shady Side, MD
Looking for a reliable and affordable arborist to help you maintain your property? Our #1 recommendation is Bayside! They are Prince Frederick and Calvert County's very own team of skilled professionals! Offering removal, storm damage cleanup, trimming & pruning solution with competitive rates as well 5-star ratings, they can ensure quality maintenance. Plus – satisfaction is always guaranteed. With Bayside by your side maintaining an aesthetically pleasing yard or property will be easier than ever before!
#2 Monster Tree Service of North Anne Arundel County
Get the most out of your greenery with this company! They have all the expertise and experience to ensure that you get quality trimming, care, removal or replacement services. We use only top-notch equipment and cutting edge techniques for long lasting results – from stump grinding to plant health checks. Plus they guarantee quick email estimates and friendly service at a price you can afford.
#3 Anne Arundel Tree Service
The team is dedicated to providing personalized service tailored to each and every unique client. They recognize that just as people are individuals, so too are trees; which means no two jobs should ever be handled the same way! Their approach takes into consideration this special individuality from start to finish – ensuring customers satisfaction in both quality of workmanship and customer service.
#4 Tall Tree Service
This locally owned and operated business has been providing quality care in the Anne Arundel area since 1993. They offer a wide range of services, from trimming and pruning to stump removal, cabling and bracing, pest control and more. Their experienced staff has the knowledge and expertise necessary for any job, big or small.
#5 Jose Tree Service
José's company has cultivated a reputation of excellence in Annapolis and beyond, providing top-notch solutions to private residences as well as commercial businesses. Their team is highly knowledgeable and always maintains the highest standards for each project, which explains why we consistently have great reviews from satisfied customers.
#6 Ballard Enterprises
Ballard Enterprises are local experts in creating beautiful outdoor environments! For over 30 years they have been transforming homes across Annapolis, Bowie, and Ellicott City through their expertise in landscaping and other services. Their skillful arborists are knowledgeable about the latest techniques for cultivating land and enriching landscapes. With their guidance you can make sure that your property's exterior is always a source of enjoyment—so don't wait any longer to get started on bringing out its full potential!
#7 Maryland Professional Tree Services
Maryland Professional LLC is your go-to for all outdoor beauty care needs. Their licensed experts have earned their stripes in Maryland, offering excellent customer service and competitive prices while delivering quality results – making countless customers throughout the region happily satisfied with their work. Whatever the task may be, you can trust that we will provide expert knowledge to promptly get it done!
#8 McKenzie Contracting
McKenzie Contracting is a professional outdoor construction and landscaping company serving Southern Maryland and surrounding areas, including Washington DC, Annapolis, and part of Maryland's Eastern Shore. Owner, Gene McKenzie, as well as the majority of the employees, are residents of Calvert County that enjoy both serving and interacting with their community on a daily basis. Meeting individuals and working to provide quality service is something that the entire organization holds to a high standard. All projects, large and small, are given the fullest extent of our attention to ensure a successful final product.
#9 RJO Services LLC
For 16 years, RJO has been the go-to business for a variety of tree and weed care needs in Maryland. With experienced teams providing residential, commercial, and government clients with services such as removal/trimming of, stump grinding RJO is the company that gives the most care and attention.
#10 Saw Dog Services
Are your trees in dire need of attention? Look no further than Saw Dog Services LLC, the Licensed Expert designed to tackle any challenge! Their experienced team offers professional and reliable solutions from trimming/pruning, removal and stump grinding to land clearing. Plus with 24/7 emergency solutions along with FREE estimates they are sure to provide you with a satisfactory end result. Owner-operated every step of the way – call us now for top quality care solutions!
No matter what kind of arborist related solutions you need, Anne Arundel County has a wide range of professional companies to choose from. With so many experts available, it can be tough to decide which one is best for your particular needs. We hope this list of the top 10 best companies in Anne Arundel County will help make that decision easier and ensure that you get the quality care you deserve. Don't forget to check out each company's reviews before making a final choice!